Repost by Elokenz, in a few words
Repost is the first tool from our content marketing toolbox Elokenz.  It allows you to post and recycle automatically your articles on social media. All you have to do is add your articles URLs on the app, connect your social media accounts and write different messages for each article.
The tool will then choose which article to share along with one of the prepared messages.
Some of you might already think that services like IFTTT already allow users to recycle posts. That's perfectly true. However, and this is where Elokenz is unique, Repost  chooses at which frequency your content is going to be reposted. Repost's algorithm will share popular articles more often automatically. Based on various signals (clicks, social mentions, freshness, …) it will automatically decide what to share to generate more traffic to your website.
Why did we create Repost
One day, I figured out that I wasn't sharing my old articles anymore. I guess I was very lazy and didn't have neither time nor motivation to repost my old pieces of content. I then realized how much time and effort I did one day put into writing those thousands of words. But now that content was just dying there, not being used. I rarely opened my old articles from the last three months to reshare them.

But frankly, who does ? What about you: do you reshare your old articles ?
If your answer is no, ask yourself: how much time and money did you invest in those pieces of content ?
You usually write content for three reasons: generating profit, gaining reputation or sharing a passion. Letting this content in a silent retirement state hurts.
it hurts your pride : your old articles are the heart of your business or your passion. Keeping them hidden is like accepting that you wrote useless content. But it certainly is not the case, most of your articles probably have a great value.
it hurts your wallet : your articles did cost you time and/or money. If that's the case, why should you let them have such a short lifetime ? A piece of content must be profitable in the long-term. If an article's ROI is negative in the first weeks, it may not be the case over 2 or 3 months.
it hurst your reputation : as you know, a brand must be built in the long-term. If you are on tight budget and must reduce the frequency at which you publish content on your blog, your online visibility will decrease consequently. Yet you invested in tens of articles which are still online and might interest your audience.
So, that's why we created Repost. To extend old articles' lifetime and increase their long term ROI.
Automation, yes, but Smart Automation
The idea came to me in 2015. I was looking for solutions to repost my articles using content spun tweets (to avoid repetitions). The best solution I came up with at the time was SocialOomph. However, I found the sharing of content a bit "naive" : the same article was shared every xx days. The tool was also kind of hard to use.
When I started working on Repost, I discovered a lot of alternate solutions to SocialOomph : SaaS tools, WordPress plugins, Zapier or IFTTT recipes. Of all those alternatives, none was integrating feedback data. They would all come back to the same basic setting : « share this URL every 30 days ».
This lack of subtlety often brings users to use those tools for low quality projects or for clients who are not really important. No solution is available on the Market today for automating content distribution with a focus on end-readers.
Repost was thought differently. It integrates a little AI that collects social signals and uses them to optimize the sharing on social media. When it comes to links, mentions on social media, clicks or leads, there are tens of factors that can be used to know if a page is trending or not within a given distribution channel.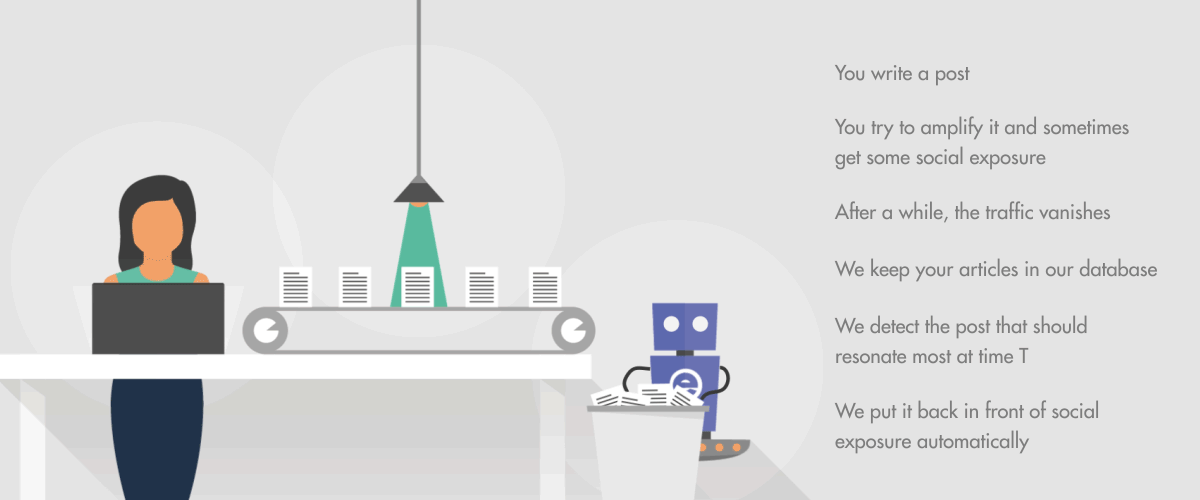 For now, Repost is only in beta and we integrate only a few of those factors, but the results are already huge.
If you want to try Repost : http://repost.elokenz.com.